Presse
Article paru dans LivresHebdo, vendredi 26 Mars 2010
Ver en .pdf

Article paru dans le « MIDI LIBRE », samedi 14 Mars 2009
Article paru sur « El Tiempo » de Bogota, samedi 14 février
Ramón Chao, papá de Manu Chao, cuenta la historia de sus tatuajes
A los 73 años, el escritor, periodista y también músico español, padre del cantante Manu Chao, cuenta la curiosa historia de sus quince tatuajes.
Texto
Foto: Mary Kent
Ramón Chao, escritor español y padre del cantante Manu Chao.
Los más jóvenes lo conocen por ser el papá del cantante Manu Chao los mayores por ser escritor, pero nadie se imagina que bajo el elegante traje de este serio señor de 73 años se esconden 15 tatuajes, uno por cada libro publicado, una « obra de arte » que él estima en millones. Solo los amigos de Ramón Chao lo saben.
« Mi piel vale mucho y aunque a mi esposa Felisa no le gusta la idea, tengo planeado donar mi cuerpo a un instituto de bellas artes para que lo preserven », afirma el escritor gallego Ramón Chao.
El primero se lo hizo en Colombia, en 1992, en el Tren del Hielo y Fuego, un viaje sobre rieles que lo llevó de Bogotá a Santa Marta para acompañar la gira de Mano Negra, el grupo de sus hijos Antoine y Manu (José Manuel). « Cuando Manu me vio, me dijo: 'Papá, es que no se te puede dejar solo ni un minuto », cuenta con una sonrisa.
Ramón Chao, quien estuvo en el Carnaval de las Artes, de Barranquilla, trabajó 30 años en Radio Francia como jefe del servicio para Latinoamérica.

Itinerario de tatuajes

El primero de sus tatuajes fue creado para que la gira de su hijo tuviera éxito, el resto tienen otra razón: la amistad con el escritor uruguayo Juan Carlos Onetti. « Cuando estaba muriendo le pregunté si le tenía miedo a la muerte y él me respondió 'No, porque cada uno de los personajes de mis libros vendrá a acompañarme¿. Yo no quería tener que llamarlos, por eso ahora los llevo en mi cuerpo. Así decidí hacerme los tatuajes », confiesa.
Las figuras son imágenes dibujadas por grandes artistas,como el polaco Wozniak y los españoles Antonio Saura y Miguel Barceló.

También están la carátula de su libro Un posible Onetti y el 'Che', que le recuerda el texto Las andaduras del Che. Además, una palmera alusiva a Los milagros de Cuba, la isla que conoció porque allí llegó su abuela huyendo de un marido maltratador.
Con manos de pianista y formación de músico, Chao reconoce que llegó al periodismo por pura casualidad.
En los textos y críticas que ha realizado para medios de comunicación como Le Monde Diplomatique ha sido evidente su postura de izquierda; incluso ha llegado a criticar a grandes amigos,como el senador Manuel Fraga Iribarne (ex ministro del generalísimo Francisco Franco).
« Vivir en España en la dictadura de Franco me hizo pensar que el comunismo era el demonio, pero llegué a París y el libre pensamiento me convenció de otra cosa; aunque nunca quise participar oficialmente en un partido », comenta.
Recientemente, el periodista Ignacio Ramonet le mostró el trabajo de Chao al presidente Hugo Chávez y, ahora, Chao está escribiendo un texto sobre Venezuela. En el tintero tiene otros que está investigando.
Viajes en moto con Manu
Los ojos le brillan cuando escucha la música de su hijo y una sonrisa cómplice aparece mientras sigue el ritmo de la letra de sus canciones.
De inmediato, llegan a su mente recuerdos de los viajes en moto que han hecho juntos y del tren que le permitió conocer Aracataca y enamorarse de los colombianos.
« Cuando a Manu le preguntan por mí dice: mi papá está más loco que yo y es mi maestro de locuras », asegura. Ramón parece un padre de ficción: anda en moto, tiene tatuajes y no le molesta que su hijo fume marihuana.
Recuerda que su papá, en cambio, fue tan represivo que lo culpa de que su hermana terminara de novicia y su hermano de cura.
« Yo no quería eso para mi vida, así que prefería intentar ser el músico que él soñaba y la verdad es que no era malo, pero me cansó ».
En oposición a su padre se mantuvo alejado de los teclados por más de 16 años, hasta que se enfrentó con un piano mientras le hacía una entrevista al escritor Roland Barthes.

Compró uno y llamó a sus hijos para que lo vieran tocar. « Ellos, que eran unos niños de 8 y 6 años, me miraban con la boca abierta. Fue el momento más hermoso de mi vida », comenta.

Al cabo de un año se dio cuenta de que tenía el mismo síndrome de su padre, así que permitió que ellos eligieran. José Manuel (Manu) escogió la guitarra y Antoine, la batería. Ese fue el comienzo de lo que sería Mano Negra, el reconocido grupo francés de los 90.
Ahora, su hijo es tan o más famoso que él y no le molesta; lo llena de orgullo, porque sabe de dónde viene su alma de músico. »Mi padre quería que fuera Beethoven o Mozart pero yo quiero ser Cervantes y estoy buscando mi Quijote ».
« Escribo para que me conozcan«
« Escribo por vanidad: lo que quiero es que me conozcan », dice Ramón Chao, nacido en Villalba, provincia española de Lugo.
Su primer libro fue hecho por encargo. Se trataba de una guía secreta de París, donde hablaba preferentemente de los lugares no tan turísticos como los burdeles y los cines porno.
En los 70 publicó El lago de Como, su novela autobiográfica, en la que narra cómo su padre compraba a sus profesores de piano,porque siempre fue un músico frustrado y cómo su madre, « una mártir », dice Chao, llegó a ser finalista en el Premio de Narrativa Torrente Ballester.
MARGARITA BARRERO F.
REDACTORA CULTURA Y ENTRETENIMIENTO
Article paru sur le site « theartsdesk.com », 12 février 2009
http://web.me.com/cijc/artsdesk.modern/books/Entries/2009/2/12_On_board_with_the_borderline_insane%3Aby_Peter_Culshaw.html
FROM A NEW WEBSITE WE ARE STARTING « super-intenso borderline insane »
"There have been some legendary rock'n'roll train rides over the years", as music journalist Nigel Williamson put it, "but there has surely never been a train ride like the one Manu Chao took across Colombia in 1993." The travellers included Manu's band Manu Negra (a hugely successful band throughout Europe and Latin America at the time) and assorted other musicians, clowns, circus artists and tattooists, not to mention ice-sculptures and, a fire-breathing dragon called Roberto.

The train toured, without security, from Santa Marta on the coast to Bogotá, one of the most dangerous areas in the world at the time and mostly controlled by guerrillas and narco-trafficantes. On the train was Manu's father Ramon Chao (his other son Antoine was also in Manu Negra on trumpet), who is a well-known and respected leftist writer and broadcaster in France and Spain with numerous books to his credit.

This graphic blow-by-blow description, was published shortly after the trip in Europe but is only now been translated, expertly by Ann Wright, into English. Ramon explains that one of his motivations was to keep an eye on his sons, who he was understandably worried about. Manu said he could come along provided the book wouldn't be as complex and literary as his other ones, which Manu claimed not to understand.

His literary mission is accomplished with the requested directness and with wit and great descriptive powers. From the personal discomfort, to the highs and lows of morale, funding difficulties, derailment, teenage stowaways, flirtations and interactions with sometimes bemused, charming or desperate locals, the tour was packed with colourful incident. His descriptions of the natural world are poetic and he adds useful political and historical context about Colombia.

When the train reaches Aracataca, the real-life model of Gabriel Garcia Marquez's Macondo of A Hundred Years Of Solitude, the band disintegrates, permanently, and only the most foolhardy continue. But as his father points out, Manu is "stubborn" and he sees the trip through, with the remaining revellers miraculously in one piece. Even if one of the main ideas, to revive the Colombian rail system didn't work, the book is a fabulous (in the old sense of full of mythic fables) account of a wonderfully "super-intenso", as Manu called it, borderline insane trip.
Article paru le vendredi 13 février, sur le site
Power trio
When Manu Chao teamed up with Amadou and Mariam, the result was a world music landmark. They talk to Robin Denselow about Mali and Maradona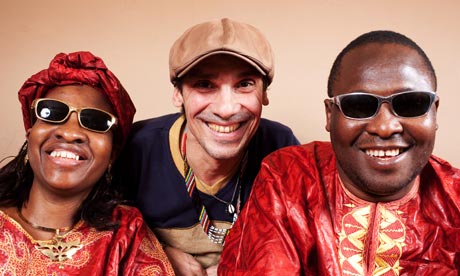 Manu Chao has been an inspirational figure in world music for years, though many outside the anglophone world wouldn't think of him as playing « world music » – to them he is a rock star, playing Gypsy-folk-punk-whatever to huge crowds. Amadou and Mariam are the blind couple from Mali (Mariam Doumbia sings, Amadou Bagayoko plays guitar) who have mixed traditional Malian music with other forms and become sensations on the world music scene.
Amadou and Mariam owe some of their success outside Mali to Chao. The French/Spanish musician approached them in 2003, and produced the following year's album, Dimanche à Bamako. The pair's earlier albums sold around 15,000 each, but Dimanche went on to sell more than 600,000. Chao has since produced an album by the group SMOD, led by the couple's son, and on occasion performs with them. The Guardian was present at their last meeting, when Amadou and Mariam joined Chao on stage in London, for their first joint performance in the UK.
Manu Chao: It's always a pleasure singing with Amadou and Mariam. I feel like part of the family now. Amadou and Mariam – and all of Mali – are one of the best music schools I ever knew, and to have the possibility of spending my time in Mali in their house, working and playing with them and their band, and jamming with the family and their son – it's an incredible experience for a musician.
Amadou Bagayoko: When he started to work with us, with his style and ours, it was a good mixture. We learned a lot from his music. And it changed the way people saw us – it made people start talking about us. It was a meeting of minds.
MC: The mix between their music and my music was so natural. I remember the first day we were in the studio together in Paris. In one or two days, we recorded I don't know how many songs, and we wrote songs together the first day. It was really, really easy.
AB: Yes it was natural. I remember.
Robin Denselow: Manu, why did you want to go to Mali? What's so special about Mali for you?
MC: It was maybe my destiny. There are a lot of other places in Africa where there is good music, but for me, now I'm part of Mali.
RD: Amadou, why do you think your style of African R&B fitted so well with Manu – what's the musical connection?
AB: Because we've always listened to a lot of blues, and R&B, in Mali. We found a kind of link there. But we've created our own style too, by listening to blues and rock. We've always been modern musicians, open to other horizons.
MC: When I was a teenager, I used to listen to a lot of R&B and blues. I'm sure that blues was invented in Mali. When I listen to American blues, I really feel the roots are coming from Mali. The ancestor of John Lee Hooker was from Mali, for sure!
AB: Yes, when you hear the music, it's nearly the same as Malian music.
RD: Did you expect Dimanche à Bamako to be so successful?
MC: When I record, I never think about that. Whenever I think about that, it's always commercially very bad. When I don't think about it, sometimes it works. For me, the important thing is that I like what I'm doing.
Mariam Doumbia: I didn't expect it to be that successful, no. It was a surprise.
AB: Wherever we went, people were talking about it – in Spain, Italy, America. It was a big surprise for us. But we were already pleased when we recorded the album.
RD: Amadou and Mariam now have a new album, Welcome to Mali, which includes collaborations with Damon Albarn. Manu, is it true that you are remixing some of the songs?
MC: I'm always mixing. When I'm at home, I put some songs on the computer for fun, smoke a joint … I've been messing with a few songs from the CD, just for fun.
RD: But you have been recording with Amadou and Mariam's son Sam?
MC: That was the next step for me. I'd been recording with Amadou and Mariam in their house in Bamako, so I met all the family. Sam has a band called SMOD, and all night long, the kids were playing and rehearsing on the roof, every night. I had my little studio, and we started recording, just for Sam …
MD: We're very proud that Manu has worked with one of our children. That makes us really happy. It's a good mixture – we do rock, he does rap.
AB: They are young, they have a different way of looking at things. But we like what they do, because we listen to all types of music.
MC: Sam has got the influence of his parents, for sure. It's another generation, more involved in hip-hop and ragamuffin, but they don't have drum machines; they play just with one guitar. So I'd define it as folky blues hip-hop. It's a kind of UFO, the music they're doing, so it's hard to define. Their culture is Malian traditional music, the music of their parents, and all the modern stuff, but played with only one guitar. So when I recorded with them, there was just one guitar and voices. I put a little percussion on and I really loved it like that. I was a little bit scared that maybe the kids would say, « Hey man, we want a lot of drum machines, I want it to sound like an American band. » But they were very clever. They said, « No – it has to be like this. Not much production. » So I felt very happy that we had the same idea.
RD: Manu, did making Dimanche à Bamako change your career?
MC: Of course. It was the first time I produced a CD that was not my own. When I produce my own CD, if it's rubbish, it is only my problem. But when you produce the CD of your friends, it's more of a responsibility, you know?
RD: Your new single, La Vida Tombola, is a tribute to Diego Maradona. Is he a friend of yours?
MC: I know him, for sure. I really respect him. It's always very interesting to talk to Diego about football – and about life, everything. He's a clever man, he has a big soul, and he's definitely « from the neighbourhood ».
AB: Maradona is really good – he's a good bloke. Of course, he's famous in Mali, too – everyone knows him. Malians love football; they follow football from all over the world.
RD: One other very different project involving Argentina is the recordings you've made with psychiatric patients in Buenos Aires.
MC: We recorded in a psychiatric hospital in Argentina and it's going to be released this year, I hope. It's ready, but I have to go to the hospital to decide what to do: whether to put it on the market, or give it out for free. It's music, singing and talking about everything – poetry and philosophy. The patients became my professors of lucidity. They say they are crazy, but they became my professors!
RD: The English translation of a book by your father, the journalist and writer Ramón Chao, is being published here: The Train of Ice and Fire. It's about a wild journey he took with you and your former band, Mano Negra, across Colombia.
MC: It was a trip we made in 1993. We went across Colombia by train to play in the countryside. At the time, I was touring a lot in South America, but when you are a rock band, you play in the big cities and you appreciate that the real border is not between one country and another, it's between big cities and the countryside. It's like two different countries. So, after playing so much in big cities, we wanted to go deep into the countryside, and play to the people in the heart of South America. My dad came with us. I'm so proud he's my dad – he's more crazy than me. He's my professor of craziness.
RD: So what are you doing next?
AB: We continue our fight. There are a lot of things still to do. We still have messages to convey. Music should be universal, whether you are Malian, African, European. We all play the same music. We play together, and from there, we have ambitions for Malian musicians, because we want Malian music to go beyond Mali, and for people to see Africa in a different way. In our songs, we talk a lot about Africa because we want people to know that even though there are a lot of problems in Africa, there are also a lot of good things.
• Manu Chao's single, La Vida Tombola, is out now on Because. Amadou and Mariam play the Concorde 2, Brighton, on 24 February, then tour